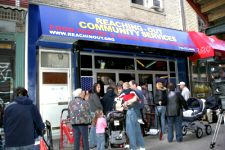 Our Mission Statement
Reaching-Out Community Services in Brooklyn, New York leads the effort to eliminate hunger in our community by providing food, a food bank, social services and programs that inspire self-reliance and community empowerment in a dignified manner.
Food Pantry Plus Program In Brooklyn
Serving the Brooklyn Community in Bensonhurst. RCS provides services to low-income individuals and families in the five boroughs of New York City. It is instrumental that our clients receive the essential services support available to meet their needs in a compassionate way.
Services We Provide: View Full Service Descriptions
• "Supermarket Style Client-Choice" Food Pantry
• Food bank
• Social Service assistance
• Electronic Food Stamp Site
• Nutrition and Health Education
• Free Tax Assistance
• F.E.A.T. (Firsthand Emergency Action Team)< Summer Tutoring
• Family Support Fund
We also provide compassionate, altruistic, and caring events such as:
• The Big Backpack Giveaway: Provide school supplies for children in need.
• Operation Gobbler Giving: Families receive a turkey with trimmings for Thanksgiving.
• Operation Christmas Smiles: Over 700 children of low-income families receive toys, food and refreshments, meet with Santa and holiday characters, entertainment (magic show, face painting, balloonist) arcade games and prizes.
---
What We Do
Watch a short video on what we do here at Reaching-Out Community Services in Brooklyn, New York and also check out our YouTube Channel for more videos. 
 
---


American Red Cross provides
$ 40,000 grant to continue our Hurricane out-reach for families affected by the storm.
Click here to view the flyer.
Click here to view the American Red Cross video.
Click here to visit the American Red Cross website.
---
Northfield Bank's Banking for a Cause March Campaign
Partners with Reaching-Out Community Services. To learn more Click Here.
---
RCS and US Army Team up to End Hunger
Reaching-Out Community Services Emergency Food Program serving individuals and families of low income. In the Celebration of 239 years of the US Army, RCS and the Veterans will team together on Monday June 9th 2014 and distribute food for low income families. This will take place in Bensonhurst at the RCS Food Pantry program 7708 New Utrecht Ave Brooklyn NY.
Our Military veterans never should have to worry about where their next meal may come from. 33% of our homelessare veterans. Many disabled vets are living at the poverty level. We can't tolerate this disgrace, and will do all we can to prevent hunger for them and their families.
Click Here to see the ARMY WEEK IN NYC flyer and help prevent hunger
---
Join us at our 6th Annual Dinner Benefit To Fill Empty Plates For The Fight Against Hunger.
We hope that you will be able to join us on Friday, May 30th for our Annual Dinner Benefit to Fill Empty Plates In The Fight Against Hunger.
Not only will this be a fun night of good food, music, gift auction, 50/50 raffles and more, but it's a night out with a purpose.
We have all gone out on a Friday night for one thing or another This event is created
for all of us to take a stand in the Fight Against Hunger and keep the RCS Program running strong for those who depend on it; because we never know when we may be
on a food pantry line ourselves.
Click Here to get your Raffle Tickets today or at The Event for the Framed Derek Jeter Autograph with Certificate of Authenticity.
You can order your tickets online, by mail, or using the link below or you can call
our ticket line at 917-509-9055.
Click here to see the 6th Annual Dinner Benefit Flyer
If you would like to purchase your tickets online use the paypal form below. You do not need a paypal account to use this form, you can also use your credit card
If you would like to purchase a Journal Ad online use the paypal form below. You do not need a paypal account to use this form, you can also use your credit card.
After you purchase your Journal Ad CLICK ON THE RETURN LINK which will bring you back to the Ad graphic and text information page.
To make your purchase by check Click here and print out your mail in Ticket Order Form for the 6th Annual Dinner Benefit or Journal Advertisement Order Form.
Please note that even though we use PayPal as our Donation Gateway,
YOU DO NOT NEED a PayPal account to donate by credit card. 
You can use your credit card without a PayPal account. 
Simply use the "Credit Card" area on the PayPal page
and you can donate with your credit card without PayPal.
I hope to see you there! Your support is so greatly appreciated.
---
To make a donation using a credit card or paypal Click Here
To donate by check click here and fill out the form.
Click here for Upcoming Events.
Help in a committee: Become a volunteer. Call us to find out what you can do to help.
Our monthly Newsletter contains important and relevant information regarding the continuing efforts of our dedicated staff, the communities we serve and the people we help in times of need.
---
Food Pantry Address
Reaching-Out Community Services
7708 New Utrecht Avenue
Brooklyn, New York 11214
Phone: 718-373-4565
---
[shareaholic app="share_buttons"]