Supermarket-Style Client-Choice Food Pantry in Bensonhurst, Brooklyn:
At Reaching-Out, we believe it is important that clients receive services and support that meets their needs in a dignified way. After a screening process that takes into account family size, income and address,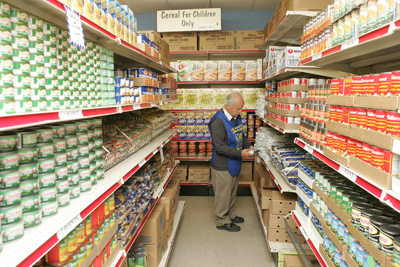 Clients receive a shopping list and grocery cart before choosing from a selection of healthy foods that meet their dietary needs and allows them to consider family preferences. 
We believe that this process helps our clients preserve their pride and autonomy during times of difficulty, when clients often lose both.
We serve over 15 diverse zip code communities to low income individuals & families in the Brooklyn area.
Every 15 or 30 days they can receive free groceries as long as needed. We distribute various nutritional food items such as fresh or canned Fruits and Vegetables, Cereals, Bread, Juices, Meats,Fish,Rice,Dairy etc. Our goal is to bring relief to our neighbors in need of food due to very low income
Single parents, elderly, disabled, unemployed, the working poor, etc.
We hope to bring strength and dignity to the communities we serve.
Feeding more than 3200 people every month and increasing, requires not only the dedication of loyal volunteers and financial input from many sources, but also a facility in which to store the food and serve the people we help.
Our food pantry depends completely on donations our operational expenses.
How To Apply:
Photo ID
Benefit cards all family members
Utility bill (any kind)
Explanation of your current financial situation.
Click here for Emergency Food Voucher Coupon

---
Food Pantry Hours
Main Office Hours: Monday thru Friday 10:AM - 5:PM 
Thursday open till 7:PM
(718)-373-4565
7708 New Utrecht Avenue  Brooklyn NY 11214
Food Distribution time:
Monday Tuesday Wednesday Friday 10:30 AM - 4:30 PM
Thursday 10:30 AM - 6:30 PM
---
Please
help with a donation today, you can do it right now on line. We need your support in order to continue to help the elderly & low income families.  
Your monthly donation of $20.00 or more can help us continue to provide food
and other social servies to many low income individuals & families in the Brooklyn area. We are currently reaching out to over 15 communities and growing.
Please send your check to:
Reaching-Out Community Services
PO Box 476
Brooklyn, NY 11204 
We are in need for volunteers to help during the food pantry hours above. If you can help please contact our office at 917-509-9055.