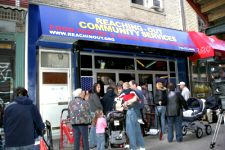 Our Mission Statement
Reaching-Out Community Services in Brooklyn, New York leads the effort to eliminate hunger in our community by providing food, a food bank pantry, social services and programs that inspire self-reliance and community empowerment in a dignified manner.
Food Pantry Plus Program In Brooklyn
Serving the Brooklyn Community in Bensonhurst. RCS provides services to low-income individuals and families in the five boroughs of New York City. It is instrumental that our clients receive the essential services support available to meet their needs in a compassionate way.
Services We Provide: View Full Service Descriptions
• "Supermarket Style Client-Choice" Food Pantry
• Food bank pantry
• Social Service assistance
• Electronic Food Stamp Site
• Nutrition and Health Education
• Free Tax Assistance
• F.E.A.T. (Firsthand Emergency Action Team)< Summer Tutoring
• Family Support Fund
We also provide compassionate, altruistic, and caring events such as:
• The Big Backpack Giveaway: Provide school supplies for children in need.
• Operation Gobbler Giving: Families receive a turkey with trimmings for Thanksgiving.
• Operation Christmas Smiles: Over 700 children of low-income families receive toys, food and refreshments, meet with Santa and holiday characters, entertainment (magic show, face painting, balloonist) arcade games and prizes.
---
What We Do
Watch a short video on what we do here at Reaching-Out Community Services in Brooklyn, New York and also check out our YouTube Channel for more videos. 
 
---
Join us at our 7th Annual Dinner Benefit To Fill Empty Plates For The Fight Against Hunger. Let's help "Keep Good Going"
We hope that you will be able to join us on Wednesday, May 13th for our Annual Dinner Benefit to Fill Empty Plates In The Fight Against Hunger.
Not only will this be a fun night of good food, music, gift auction, 50/50 raffles and more, but it's a night out with a purpose.
We have all gone out on a Wednesday night for one thing or another! This event is created
for all of us to take a stand in the Fight Against Hunger and keep the RCS Program running strong for those who depend on it; because we never know when we may be on a food pantry line ourselves.
You can order your tickets online, by mail, or using the link below or you can call our ticket line at 917-509-9055.
Click here to view Dinner Ticket and Journal Ad form.
Click here to see the event Sponsorship form.
Click here to see the Honorees for the Gala.
Click here to see the event Flyer.
Click here to see last year's gala video.
---
To make a donation using a credit card or paypal click Here
To donate by check click here and fill out the form.
click here for Upcoming Events.
Help in a committee: Become a volunteer. Call us to find out what you can do to help.
Our monthly Newsletter contains important and relevant information regarding the continuing efforts of our dedicated staff, the communities we serve and the people we help in times of need.
---
Food Pantry Address
Reaching-Out Community Services
7708 New Utrecht Avenue
Brooklyn, New York 11214
Phone: 718-373-4565
---